update 26 May 2013:
From the Media Rakyat video and accounts of those who had been there, the Padang Timur was crowded with standing room only and overflowed to the walkways and fringes of the padang. If that was the case, we can safely estimate the rally to be attended by more than 130,000 at its peak.
~~~~~
The Blackout505 rally at Padang Timur, PJ, adjacent to Amcorp Mall on 25 May 2013, was generally estimated to have a crowd of between 50,000 to 70,000. It was another successful Blackout505 rally with regards to turnout.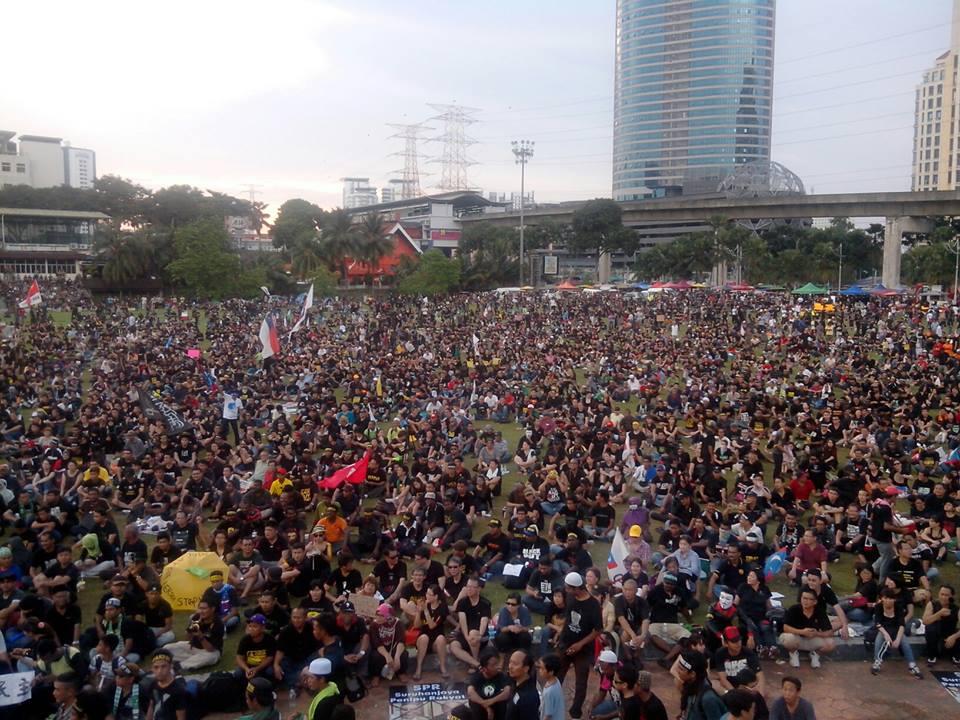 The crowd at about 7:15pm (before the break for dinner at 7:30- 8:30) at Padang Timur, Amcorp Mall PJ.
The crowd at 10:06 pm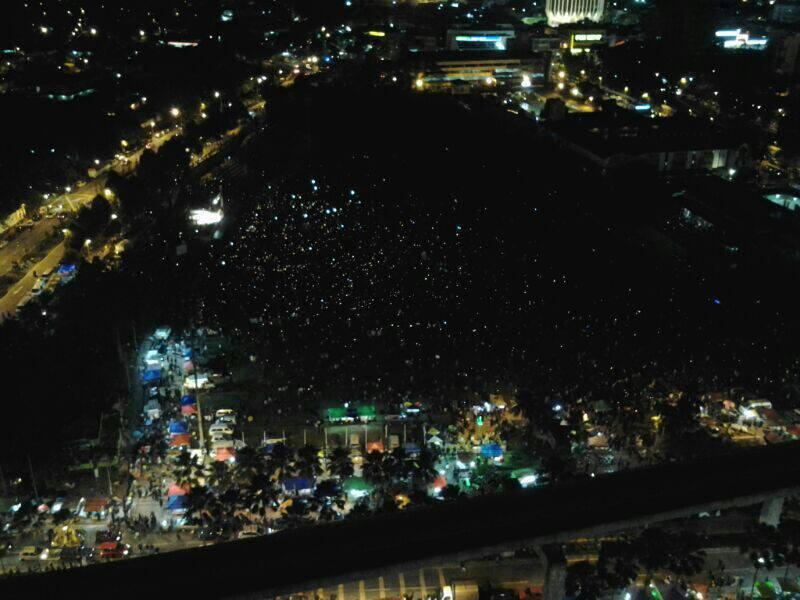 The view from high up.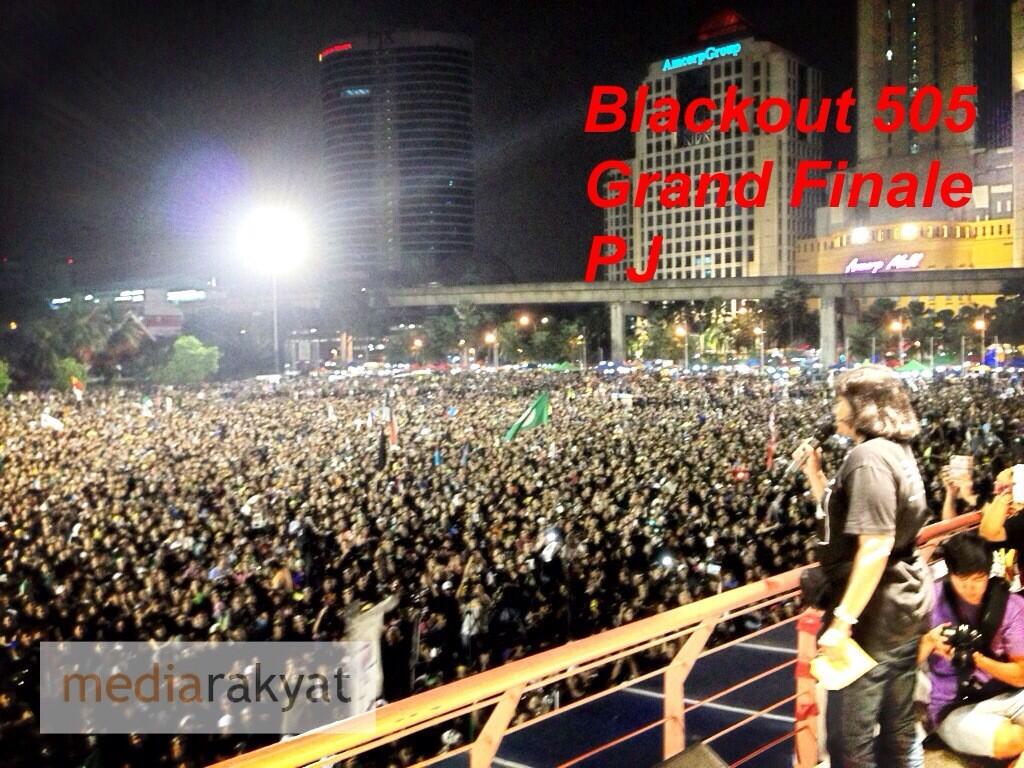 In contrast the STAR (a pro BN govt press) reported 100,000 attended the Citrawarna Malaysia launch at Dataran Merdeka at the same evening on 25 May 2013.
~~~report from the STAR~~~~~~~
Drizzle fails to dampen Citrawarna Malaysia launch
KUALA LUMPUR: A drizzle did not deter the public, including foreign tourists, from following the Citrawarna 1Malaysia (Colours of 1Malaysia) event at Merdeka Square on Saturday.
The fest, which started at 5pm, saw about 100,000 local and foreign tourists and 248 MegaFam participants from 23 nations including Brunei, Thailand, Cambodia, Jerman, New Zealand and Canada mesmerised by the local cultural performances.
Australian Richard McGallen, 38, complimented the Tourism and Culture Ministry for organising a fantastic event.
"I am amazed at the cultural performances...my visit to Malaysia will be a very memorable one," he said.
Hisham Jefri Mohd Ali, 27, from Kelana Jaya, was very excited with the procession of 200 Porche cars and other performances.

~~~~~~~~
Now let us analyse how truthful the reporting was.
The size of Dataran Merdeka is approximately 155,440 sq ft as shown by google map (right). If each sitting/standing area occupied by each person is 3 sq ft, the maximum number of attendees would be just 51,813. Even if the Dataran Merdeka was crowded with standing room only (2 sq ft) the maximum crowd would be just 77,720 people. Thus, the STAR presstitude is guilty of inflating the numbers by 25 to 50% even if the Dataran Merdeka was fully occupied.
But because there was no picture at all of the crowd, we can safely say the Dataran Merdeka would not even be quarter-full as witnessed in all cultural events. Most would be foreign invited guests and participants.
The PR Blackout505 rally at Padang Timur, Amcorp Mall, PJ was held at a larger place. The conservative area of actual field was 225,000 sq ft (see red outline of field area only, right pic).
If the outer perimeter (walkway) is included, the area occupied by rally attendees is much larger at 260,000 sq ft. Using the 3 sq ft per person area, we have a REALISTIC ESTIMATE RANGE of between 75,000 to 86,667 people. At 2 sq ft per person standing room, the crowd could easily be 112,500 to 130,000. But hey, no one is counting and no scientific estimates are given, except here.
So on one hand, The STAR Presstitude, obviously over-estimated the crowd attendance at the official function at Dataran Merdeka at 100,000 without even showing a single picture of the crowd. How convenient?
On the other hand, the STAR Presstitude dared not even give a number to the huge crowd gathered at Dataran PJ for Pakatan Rakyat's rally Saturday. This is what The STAR reported:
Big crowd at Pakatan rally at Dataran PJ (Live Updates)
By WONG PEK MEI and BEH YUEN HUI
PETALING JAYA: A
huge crowd
gathered at Dataran PJ for Pakatan Rakyat's rally Saturday.
The rally is among several organised by the opposition to protest the results of the May 5 general election.
Police have warned that the rally is illegal as they have not received the 10-day notice as required by law under the Peaceful Assembly Act.
The crowd, mostly clad in black, started to arrive as early as 4.00pm. The event proper started at 5.00pm with speeches from representatives of student groups and non-governmental organisations.
The NST even totally ignored the number of participants (dared not even mention the number), choosing to emphasize the perceived "illegality" issue.
PETALING JAYA: The opposition proceeded with their planned gathering at Dataran Petaling Jaya here today despite not giving police notice as required under the Peaceful Assemblies Act 2012.
The assembly which began at 4.30pm was mostly attended by participants who were dressed in all black with some bringing along their babies and children.
Some carried placards with provocative words.
Among those present were Parti Keadilan Rakyat (PKR) advisor Datuk Seri Anwar Ibrahim, PKR deputy president Azmin Ali, PKR vice-presidents Tian Chua and Nurul Izzah Anwar besides PKR strategy director Rafizi Ramli.
It is also understood members of movements like Soladiriti Anak Muda Malaysia, Suara Rakyat Malaysia, Parti Sosialis Malaysia and Jaringan Rakyat Tertindas joined in.
Prior to this, police had said they had not received any notice on the planned assembly.
The act requires at least 10 days notice be given before an assembly can be held. -- BERNAMA
The foreign international press (AFP) is perhaps more honest by suggesting tens of thousands but dared not "cross the line" of giving an estimate of the crowd. So judge for yourself how the main stream media downplay the truth or inflate to please their paymasters.
Thousands defy Malaysia govt, holds rally to protest 'electoral fraud'