Monday, 26 October 2015 22:00
MALAYSIA CHRONICLE BLOCKED AHEAD OF BUDGET 2016, NO-CONFIDENCE VOTE
Written by Malaysia Chronicle
KUALA LUMPUR - Malaysia Chronicle is facing service disruption since Budget 2016 day on Oct 23.
Apparently, we have broken 'national laws', yet we received no prior warning or communication from the regulator or authorities.
Till now, we have no idea why our website has been banned in Malaysia but believe the motive to be political, to gag us from voicing views that may be critical to certain leaders.
Our website is now blocked from local internet services provider, such as TM.
To all readers, please change your computer DNS to OpenDNS or Google DNS so that it can bypass from TM DNS.
Please refer to guide below and adjust your local computer DNS.
We apologize to readers for the inconvenience and condemn the blocking of our website and the stifling of alternative views.
ADJUSTING YOUR LOCAL COMPUTER DNS
IF YOU ARE USING A LAPTOP OR PC, PLEASE FOLLOW THE STEPS IN SET 1 BELOW. THERE ARE ONLY 8 AND IT'S QUITE EASY
IF YOU ARE USING A MAC, IPAD OR IPHONE, PLEASE SCROLL DOWN TO SET 2 - WHERE THERE ARE STEPS FOR DIFFERENT GADGETS
2. Select & click into Network & Internet
3. Select & click into Network & Sharing Center
4. Select & double click into Local Area Connection
5. Select & click into Properties
6. Select & double click into Internet Protocol Version 4 (TCP/IPv4)
7. Select 'Use the following DNS addresses'
8. Depending on which broadband you are using, at 'Preferred DNS server' type in 8 8 8 8
or type in 8 8 4 4 (try 8 8 8 8 first and if it doesn't work try 8 8 4 4)
9. Click OK & it will go back to previous menu (as in step 6)
11. Finish, you should be able to get into malaysia-chronicle.com
208.67.222.222
For window computer : ehttps://www.opennicproject.org/configure-your-dns/how-to-change-dns-servers-in-windows-7/
For Mac computer : http://www.macinstruct.com/node/434
- Malaysia Chronicle
OR 8 8 4 4 (depending on the gadget/broadband you are using)
SET 2
Let's do PC first.
1. How to change to Google's DNS on PC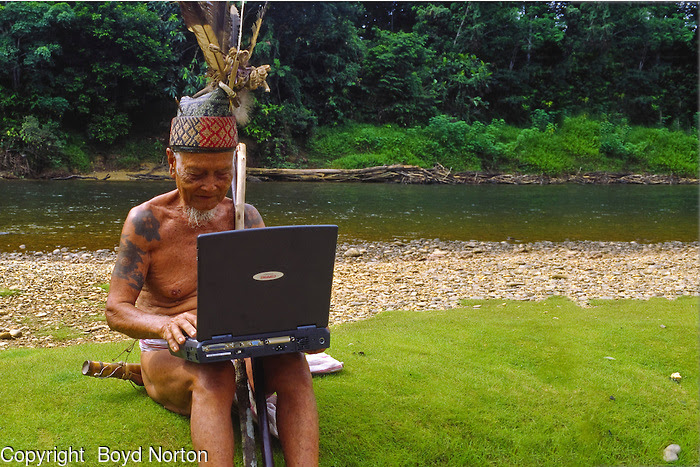 Awesome image from Boyd Norton, and yes, it's REALLY the village elder's laptop. Who's the dummy now?
These instructions work for Windows 8, 7, Vista and XP. These screenshots have been taken using Windows 7.
Log in to Windows with an Administrator account. Generally speaking, if it's an office, just ask your tech dude to help you and close your browser (unless he's pro-Najib, of course).
Open the Start menu and select Control Panel.
Select Network and Internet, and then Network and Sharing Centre.Note:Windows XP users should click "Network Connections" and then skip to step 5.
Select Change adapter settings in the left-hand column.
Right-click on Local Area Connection or Wireless Network and select Properties.
In the Networking tab, click once on Internet Protocol (TCP/IP) to highlight it, and then click Properties.
The fields are most likely blank. If they are, select Use the following DNS server addresses and then enter the following:Preferred DNS server: 8.8.8.8
Alternate DNS server: 8.8.4.4
Click OK to finish. WOOHOO!
Go to www.sarawakreport.org and enjoy your seditious content!
2. How to change to Google's DNS on Mac
On the desktop, click the Apple icon in the top right-hand corner and select System Preferences from the drop-down menu.
Select Network.
Select your Connected (Ethernet or Wi-Fi) connection from the left-hand column and then click Advanced.
Select the DNS tab and then click the plus (+) button in the lower left-hand corner of the window.
Type the following and then click OK to finish:
DNS server: 8.8.8.8
You can also add DNS server: 8.8.4.4 as a backup by repeating Steps 4 and 5.
Go to www.sarawakreport.org and enjoy your seditious content!
3. How to unblock Chrome on Android or iOS (only for Chrome)
OMG. Thanks to reader and tech-god,
macamyes
for this ridiculously simple solution on
Chrome mobile browsers
(No aunty, it doesn't work on Safari or other mobile browsers. Go download Chrome from the
Google Play Store
if you don't already have it). Apparently there's a button that turns on
Data Saving
which reroutes all traffic through Google's DNSes instantly! Here's how you turn it on.
Open up the Chrome browser. Look for this logo.
Open up the Settings screen
Go to Advanced, and look for Data Saver option, and turn it ON!
Go to www.sarawakreport.org. Enjoy your seditious content!
Oh and a parting note from macamyes…
4. How to change to Google DNS on iOS (iPhone or iPad)

Here's how to change your iPhone's DNS servers. FYI, this ONLY works on WIFI. If you're not connected to a WIFI, we don't quite know what to do just yet. AAAANYWAYs… instructions courtesy of
macinstruct.com
From the iPhone's home screen, tap Settings.
Tap Wi-Fi. The screen shown below appears. The available wireless networks in range of your iPhone appear, as shown below.
Find your wireless network in the list, and then click the arrow. The screen shown below appears.
Tap the DNS field.
Delete the current DNS servers (if any), and enter the new DNS servers. (You have to use a comma to add more than one)

Enter "8.8.8.8, 8.8.4.4" or if that doesn't work, just enter "8.8.8.8"

Go to www.sarawakreport.org and enjoy your seditious content!
If either of these don't work, do let us know in the comments below and we'll try our best to help! Also, do let us know if the block is also appearing on your mobile, or if you have a solution that we haven't covered (we'll credit you!)
"Why CILISOS so gungho to unblock? YOU OPPOSITION KA!?"
Ironically though,
that the government is banning the site actually makes us trust them more
. After all… why would you ban a site for publishing lies?
But regardless of that,
as a fellow media outlet ourselves
, we feel the need to support their right to free speech (unless or until it is proven as an undeniable lie). We're entering a very uncertain time as Malaysians, and us here at CILISOS feel that the right to free speech is one of the most important rights we need to defend to save this country.
Which means even if it's Ridhuan Tee, Anwar Ibrahim or Ibrahim Ali… we will help you unblock any site you want (except porno la go ask someone else… ish).
Because who knows… someday it'll be our turn



Full article: http://www.malaysia-chronicle.com/index.php?option=com_k2&view=item&id=605266%3Amalaysia-chronicle-blocked-ahead-of-budget-2016-no-confidence-vote&Itemid=2#ixzz3peEILeT0
Follow us: @MsiaChronicle on Twitter